Get lost at sea (but not literally) with these great nautical motels!
Categories
Practical
Nautical interior design has always been a mainstay of retro motel culture. Though many recently-erected boutique hotels have taken this aesthetic to a more luxurious extreme, there are a number of well-preserved retro nautical motels that maintain a bygone idea of what this design style is truly meant to embody. As an extension of the beach vacation experience, these motels are a time capsule for a time-enduring set of signifiers. Let's take a look at some of the best of these retro nautical-themed motels.
Nautical Motel and Suites in Hampton, New Hampshire
The aptly-named Nautical Motel is a roadside gem off the I-95 offering a variety of different lodgings, from one-bedroom apartments to straight-up beach houses. The interiors of each of their accommodations are adorned with charmingly retro nautical signifiers, established primarily by their predominant use of navy both in the colorways of their bedspreads and their muted paint job. While modern nautical-themed hotels purposely give their wooden floors a contrived worn-in finish to mimic the way humidity alters wooden boats, the Nautical Motel's naturally time-ravaged flooring achieves this effect inadvertently. While retro-motel lovers will appreciate this weathered aesthetic, travellers seeking more modern accommodations may be put off. As for as nautical motels go, this one follows through on the promise that its name connotes, fulfilling a seaward vision even though it's at least five miles away from the beach.
The Sundown Inn, Morro Bay, California
With its iconic exterior radiating the kind of retro kitsch that this blog lives for, it is no surprise that the interior of the Sundown Inn's rooms boasts some of the most delightfully outdated nautical wallpaper you've ever seen. The light blue tiling featured in its bathrooms and the shiplap ceilings really bring the motel's nautical theme full-circle, which is fitting given that the Sundown Inn is a beachfront motel after all. Its With its reasonable rates and generally favourable online reviews, the Sundown Inn seems to be a leading choice for those seeking out nautical motels to theoretically extend their time spent by the ocean.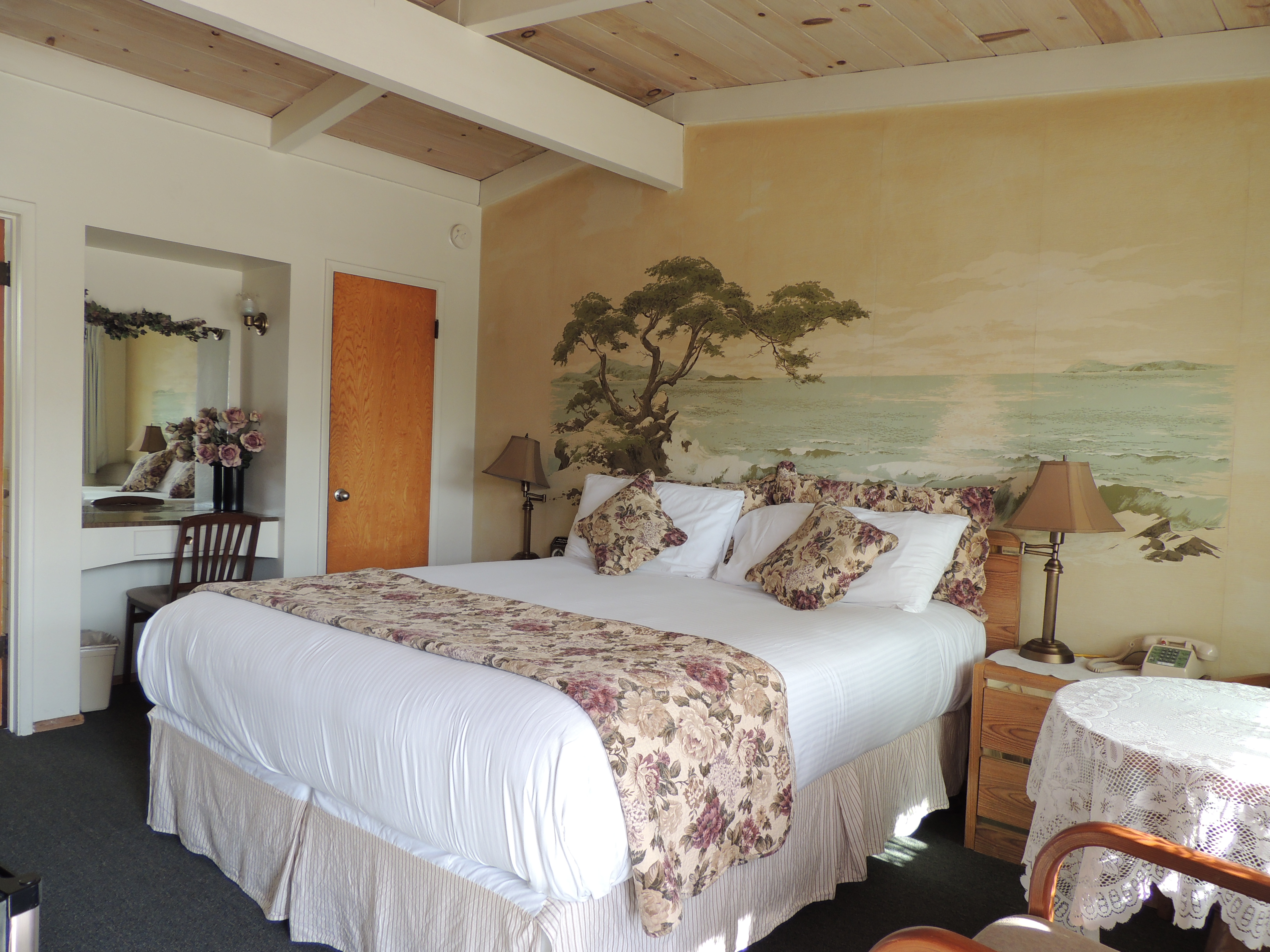 The Native Hotel in Malibu, California
Though it is branded as a hotel, Malibu's The Native is in fact a motel, one which proposes a revamped take on retro design typically found in nautical motels. While the design flourishes of the aforementioned motels recall a bygone but ever-relevant idea of nautical kitsch, the Native Hotel offers a slickly modernized version of this aesthetic. The brick exterior features a glossy navy paint job that immediately sets the tone for this ocean-themed lodging. Furthermore, the bathroom hardware is made to look like a rustic boat helm, and exposed piping with a similar finish pushes this nautical concept forward. Though its status as a recently-launched boutique motel entails a fairly hefty nightly rate, the Native Hotel is a go-to for those pursuing nautical flair while steering clear of the not-so-mint conditions of the retro, preserved variation.
Regardless of their actual proximity to the sea, nautical-themed motels prevail on both the higher and lower echelons of accommodation. While I naturally gravitate towards the throwback kitsch of nautical interior design, we have seen more modern examples that refresh this concept to appeal to those with more finicky tastes. No matter your preference, nautical design is a surefire way of setting a laid back yet iconic atmosphere that adds a unifying visual dimension to the experience of your motel stay. Keep it wavy my friends!