When check-out time comes along after a stay at a retro motel that has preserved its original accoutrements (like this great vintage Washington motel), I'm always a bit reluctant to give my room key back to the front desk clerk. This is not only because I'd like to prolong my stay but also because I have a penchant for the old-school motel keychain.
After a quick browse through kitsch-friendly online marketplaces such as Etsy, I soon realized I am not alone in my appreciation for this retro accessory. Seeing as I am currently on the lookout for the perfect motel keychain, I figured I would share some of the different options available. Let's take a look.
Motel keychains are an inexpensive way of taking the retro motel experience with you
CC image courtesy of Macwagen on Flickr  
The Real Deal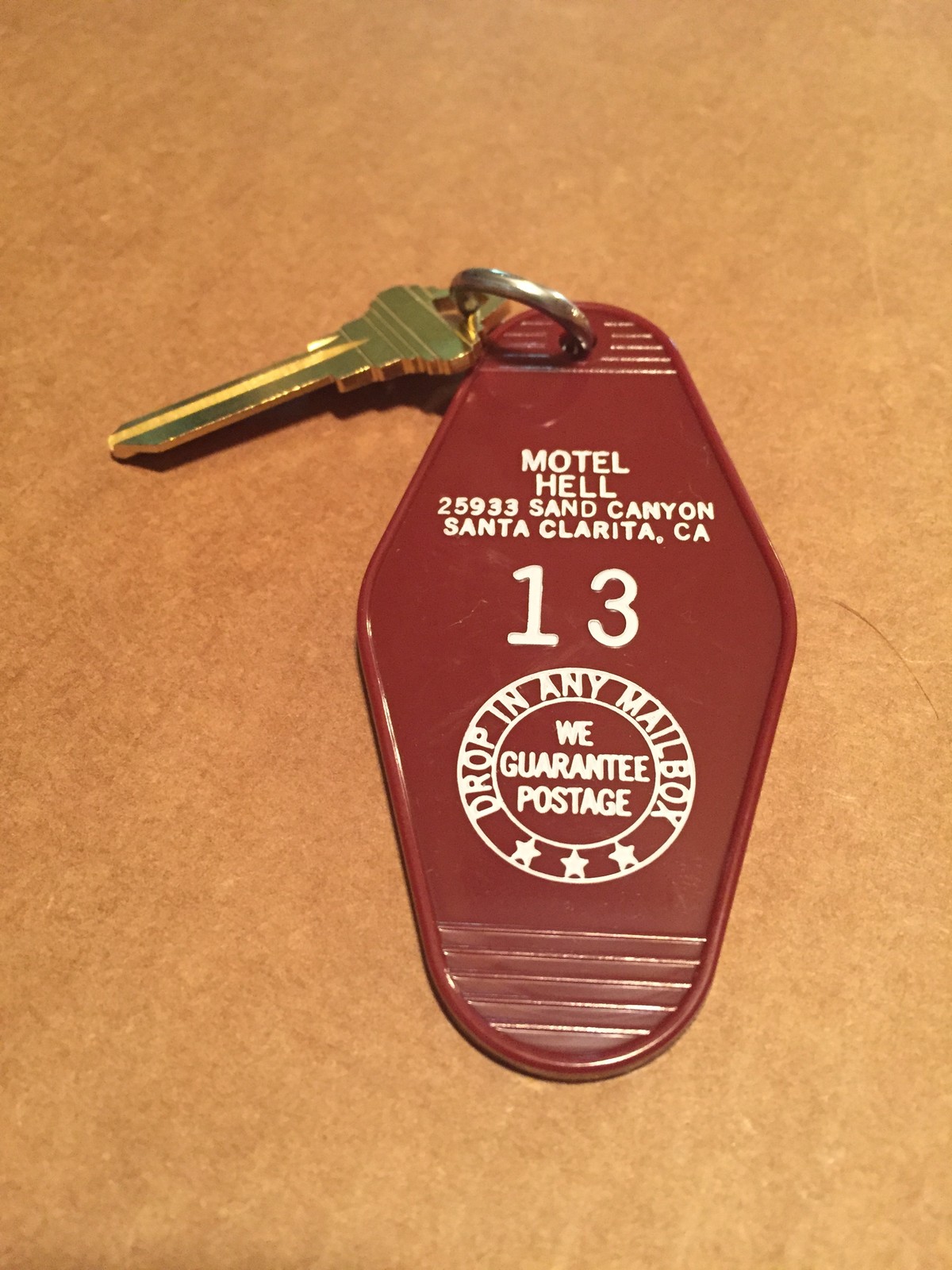 Thanks to the magic of Ebay, there's a huge variety of authentic motel keychains that are available for purchase online. This is a really cool option because it's essentially a primary source of the nostalgic and kitsch factor that is at the basis of their appeal. Also, as a result of surviving decades of use in the hands of countless guests, these vintage keychains often have a charming wear-and-tear that only adds to their vintage cool.
Case in point: this weathered piece from an Ontario motel which is currently up for grabs on Ebay (for now). The only downside to acquiring one of these pre-loved keychains is that it does connote a bit of a 'poser' stance, for lack of a better term. After all, I'd rather flaunt memorabilia from a motel I have actually visited rather than advertise a motel I've never seen in person.
If, however, one of these Ebay postings would come from a motel that I had actually been to, I would definitely be placing a bid.
Quirky Messages for Maximum Appeal
If authenticity is not your thing and you're looking for a motel keychain that puts a modern spin on a retro concept, then Etsy has a lot to offer. With straightforward plastic designs offered in an endless rainbow of colors, these keychains feature a plethora of quirky slogans.
Some of these mock-versions also feature numeration as though they corresponded to actual motel rooms. And of course, staying true to the motel's longstanding association with the world of cinema, there are also a wide array of movie-themed motel keychains referencing the likes of American Psycho, The Breakfast Club, or the above pictured Motel Hell. In my view, this keychain option can occasionally border the line between kitschy and straight-up corny, but that all comes down to personal taste.
Express Yourself With Your Own Custom-Made Motel Keychain
Another more creative option to showcase your retro-motel sensibility is that of custom-making your own personalized motel keychain. Websites such as this one give you the opportunity to customize a motel-style tag in a color of your choice, with whatever name or slogan you see fit.
This is a really interesting approach because it lets you leave your personal imprint on this retro motel signifier, giving you full freedom to create your ideal piece. That being said, I personally wouldn't go through the hassle of customizing something as trivial as a keychain, but I definitely would consider it as a cool gift option for a friend or loved one, specifically someone who shares my passion for all things retro.  
There are lots of different styles of retro motel keychains out there, though I still can't decide which ones I will go for!