I don't know if you've noticed, but America is currently living in a golden age of one-of-a-kind motels. This cool travel trend is no more apparent than in America's Pacific Northwest region. Already rich in natural beauty, the unique motels of the Pacific Northwest are perfect for those who prefer unusual accommodations that are far from the beaten path.
Sleep in a vintage trailer in Washington, gaze at the ocean from a lighthouse on the Oregon Coast, and even take up residence in the muzzle of an enormous canine! These far-out motel picks combine cool digs with the gorgeous scenery the Pacific Northwest is famous for. Not only that, they come at a variety of price points, so you won't have to break the bank to stay in style.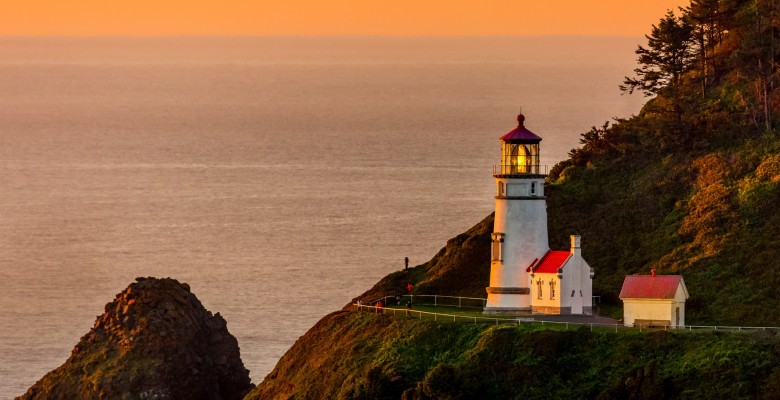 A fully-functional lighthouse perched high upon the Oregon coastline that was established way back in the late 1800's, Heceta Head will draw you in with its powerful light (and equally potent charm). Get lost in thought as you gaze out at the abundant natural life and exquisite views of the Pacific Ocean while enjoying the fully updated amenities and delicious food. With prices starting around $200 a night, it's a chance to taste a bit of the simplicity and solitude experienced by lighthouse-keepers of old – without all the lens-polishing and wick-trimming.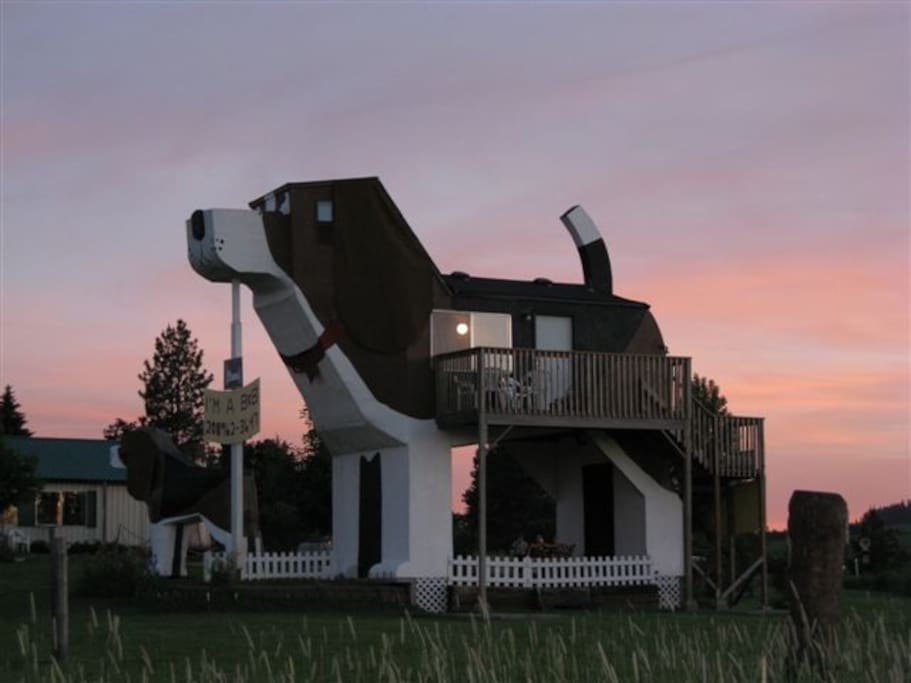 This bed and breakfast is for those who like to take a theme and run away with it, and truly earns the distinction of being one of the most unique motels of the Pacific Northwest. Married chainsaw artists Dennis Sullivan and Frances Conklin crafted the 30-foot beagle in 1997, and have been enjoying its loyal companionship ever since. Enjoy the unique pleasure of sleeping inside a giant dog, with expansive views of the surrounding Camas Prairie. This pup-shaped motel guesthouse sleeps four, and starts at $130 a night (tasty 'dog treats' included, of course). Bow-wow!
While some prefer to lodge deep underground, others prefer to sleep nestled high above.
Conceived by veteran treehouse builder Michael Garnier, Out'n'About stretches the definition of a motel, being made up of multiple treehouses connected by suspension bridges! Repose in rustic log cabin-style rooms perched between 8 and 37 feet off the ground, depending on how brave you're feeling. Skylights and stained glass windows add a touch of luxury to a scene straight out of a fairy book. Starting at $150 a night, and featuring tons of awesome 'Activitrees' (their word, not mine) in the surrounding rivers and woodland, this destination makes a great case against mankind ever coming down from the trees.
This kitschy, community-minded spot has cornered the market on free-spirited, kitschy cool. Soak up the good vibes while you stay in a cozy vintage trailer nestled among fir trees. When you're ready to venture outside, there are tons of fun options, including live music performances, a thrift shop, therapeutic massage, and a clothing-optional Finnish sauna to take you to new heights of bohemian rest and relaxation. Unpretentious good times don't come any easier than this – and you can have it all for as little as $83 a night.
So, what are you waiting for?
As you might have noticed, these unique motels of the Pacific Northwest are a far cry from conventional. But what these quirky accommodations lack in fine silverware and cleaning services, they make up for by being so charming that they're near-impossible to leave!